Enterprise Level Management for Small Businesses & Organizations
The costs associated with the deployment of enterprise grade management software are historically high, but undeniably necessary. Over the last decade, Microsoft has implemented several new offerings to help businesses scale quickly and affordably. Tools like Office 365 Enterprise E3 and E5 are changing the enterprise landscape for the better, reducing costs and simplifying licensing. Today, Microsoft is diving head first into the cloud integration market with a slew of new offerings and features. Office 365 Enterprise E3 is the latest of these offerings, and is considered the flagship version of an already highly adaptable product.
Office 365 Enterprise offers a wide variety of applications, from the online communication and messaging services through Skype, to the productivity tools offered by Exchange and SharePoint. Office 365 Enterprise plans reflect Microsoft's ambitions to provide a platform from which you can run an entire company. Office 365 Enterprise E3 is their flagship version, and is designed to meet the growing & everchanging needs of a large, multi-user organization.
Enterprise E3 Licensing, Pricing & Features
With Office 365, pricing and licensing is relatively simple compared to standard versions of Microsoft Office. Monthly and yearly pricing allows for flexible terms and once a license is purchased, it can be easily added and assigned to a user. Active Directory allows for simplified credential and employee management. Licenses can be quickly added, revoked, reassigned and deactivated. With this feature, you can allow your employees to from home, edit documents on the go in a safe and secure manner, and meet without complications. All enterprise plans come with a variety of options including unlimited One Drive storage, desktop and mobile application functionality, meetings & document co-collaboration + much more. Lastly, you can have peace of mind knowing each license is installed with the latest patches and features and is always eligible for upgrades to the latest release at no additional cost.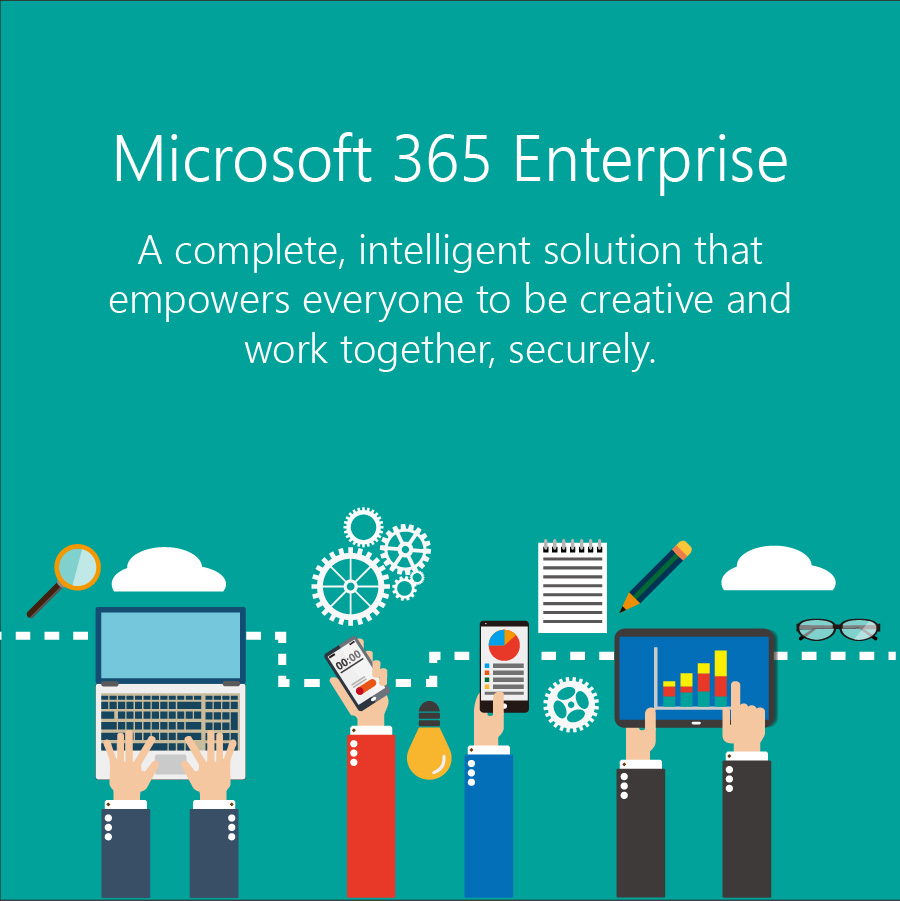 Microsoft's Office 365 Cloud Platform promotes safe access on the go. Files, folders and applications are available from any computer, location, or device. Promote maximum information availability with OneDrive unlimited storage on a system that's flexible to your needs. With advanced analytical tools, including Microsoft Power BI – you can let your applications work for you. Uncover deep insights into your daily operations. Discover the value, affordability and flexibility of a system designed to meet your everyday needs. Have peace of mind knowing your data is always accessible to you, and is stored geo-redundantly around the world to ensure both availability and information security.
Learn More
The Office 365 Enterprise E3 plan seeks to be an overall solution to the power executive, offering support to small businesses lacking a strong IT infrastructure, while providing advanced tools in communication, migration and management and even branding for companies of any size or with any number of employees. These are just a few of the benefits of shifting your business into the mindset of the cloud. To learn more, or to get a free quote on any of our Office 365 plans, contact our licensing desk at https://www.royaldiscount.com/