Policies 
Welcome to our Policies page. We tried to make this section as comprehensive as possible yet easy to navigate. We hope you find the information you're looking for. If not, feel free to call us toll free at 1-877-292-7712 and one of our licensed professionals will do their best to answer your questions.
We offer free shipping on all online orders for software items within the continental United States. Unfortunately, we can't offer free shipping to Alaska, Hawaii or U.S. territories. Once shipped, your package(s) are subject to the carrier's (UPS or USPS) terms and conditions. For expedited shipping options, click here. For all phone orders, a service fee is added on to our standard shipping charges.
UPS will not deliver packages to PO Boxes. Additionally, we cannot ship to APO/FPO addresses at this time.
Wondering how long your free shipment will take? Check the map below.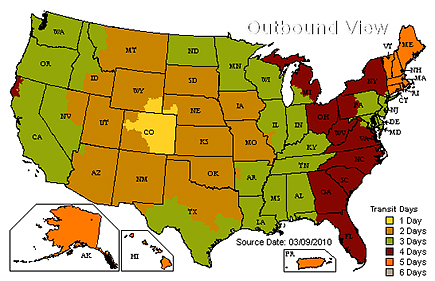 Due to standard business practices, UPS does not deliver or transport packages on Sundays or Holidays, including expedited shipments. We encourage you to use the same billing and shipping address for your order. Using an alternate shipping address is acceptable, subject to credit verification.
We make every effort to ship orders placed before the shipping cut off of 2:30pm Mountain Time (4:30pm Eastern Time) the same business day, subject to product availability and credit verification. Orders placed on Saturday, Sunday or a holiday will ship the next business day.
Please provide a valid and complete physical shipping address for your delivery. Orders that come back or need to be re-routed due to an incorrect or incomplete shipping address are subject to a minimum $10.00 rerouting/reshipping fee, at the discretion of Royal Discount. Any package that is refused or returned to us as undeliverable will be subject to a minimum $10.00 refusal/delivery failure fee and recovery of shipping fees.
Expedited shipping options via are available in the contiguous United States for an additional charge: The options we offer are (note these are business days):
2nd Day Air
Standard Overnight
Priority Overnight
Next Morning (only available to select zip codes)
Depending on the value, destination, and/or weight of your package, we may send your package with an adult signature required upon delivery (minimum age: 21). UPS will not deliver a package with this requirement without obtaining a valid signature.
We offer a "blind drop shipping" option on our checkout page. If selected, the shipping label and packing documents will obscure pricing details and our company name. This service is only available within the 50 United States.
If your shipment is delayed for an excessive length of time, or if the carrier has delivered the package but you have not taken possession of it, we will attempt to initiate a tracer investigation upon your request. This process takes up to 10 business days. UPS' findings will determine the options available upon completion of the tracer.
Outside the Continental U.S.
Canadian orders and orders to Alaska, Hawaii and Puerto Rico as well as other U.S. territories can be sent via 2nd Day Air Service. For sales outside of these areas, please check with a licensing specialist to see if we can obtain region specific software for your area.
To make your purchase experience the best it can be, we accept most payment options for domestic purchases including credit/debit cards, online payment services like PayPal, check or money order and Royal Points from our Rewards Program. See below for details on each method.
We accept Visa, MasterCard, American Express and Discover cards issued in the United States, Canada, or Puerto Rico. Cards issued elsewhere are not accepted.
Upon receiving your order, we will authorize your card for the specified dollar amount. If your order is not authorized by your card company, that order will be cancelled. You may then place a new order with an alternate payment method or resolve any issues with your card issuer. Credit card authorizations are temporary, and your card is not charged until we ship your order. Please contact your card issuer if you have questions on the difference between an authorization and a charge.
You can also pay by check or money order. To do this please download and fill out the check purchasing form. Once filled out, send the form along with your check or money order (don't forget the additional $5.00 processing fee) to the address on our Contact Us page. Please be aware that we cannot ship your order until your check has cleared.
Payment by check or money order is only available for orders billing and shipping within the United States.
You can also purchase software from our site as well as any of the special items found in the Reward Items section of the site using Royal Points. To do this, you must first be a member of our site – it's free to sign up. As a member, you'll automatically be enrolled in the Rewards Points Program and will start earning points for every purchase you make. You can check your point balance at any time by logging into your account and going to the Account Info tab.
We offer the same payment methods for businesses and government organizations as we do consumers. In addition, we offer Net 30 payment terms to organizations passing our credit approval process. Please see our Corporate page or Government page for more details.
By law, we are required to charge sales tax on all orders shipping to the State of Colorado. Your tax will be calculated based on the delivery zip code. We do not charge sales tax for physical orders shipping to any other location.
Electronic license products with end users in the states of Colorado or Massachusetts will also incur sales tax at the applicable rate.
If you have a current Colorado or Massachusetts sales tax license, you may supply us with a copy of your license to have your tax waived. If you supply us with a sales tax license, it is your responsibility to fax a new copy once your old license expires.
By placing an order with us, you warrant that you are an authorized user of any credit card, debit card, checking account or alternate method you present for payment. Please provide the correct primary billing address on file with your card issuer as incorrect billing addresses may delay your order.
Royal Discount reserves the right to contact the issuing bank and/or the billing or shipping party to obtain valid billing information or to verify the legitimacy of your order. Orders failing to pass our credit verification process will be cancelled at our discretion. Individuals or organizations that attempt to place a fraudulent order may face legal action.
Royal Points Rewards Program
Our Royal Points rewards program is one of the most valuable benefits of creating a free membership account with RoyalDiscount.com. Earning Royal Points is easy! Just sign up for a free membership and you will automatically start earning points on all of your purchases.
You can check the item detail page of any product to see how many points will be credited to your account once purchased. Look under the "My Points and Redemptions" section of your My Account page to see how many points you've earned.
When you're ready to redeem, just add the item(s) you wish to purchase to your shopping cart and select the checkbox in the "Shopping Points" section during checkout. You can redeem Royal Points toward any item sold on RoyalDiscount.com, including our special Reward Items section, which we've set up for members who are saving up their Royal Points for great gadgets.
The Fine Print
If your points balance isn't high enough to cover the full value of your shopping cart, additional payment via an alternate payment method is required.
You can choose whether to apply points to each new order or let them accumulate over time.
You must be logged in to earn or redeem Royal Points.
Royal Points do not expire unless your account has three years of inactivity.
Royal Points have no cash value and can only be redeemed at RoyalDiscount.com.
Royal Points are not credited to your account until a purchase is complete, and points may be deducted from your account if a purchase is returned or cancelled.
We may modify, amend, or enhance the Royal Points rewards program at any time.
We know that when you order from us, you're trusting us to protect your information the best way possible. And we want you to know that we place the highest importance on protecting your information. That's why we employ the latest tools and the highest certifications to make sure your private information stays private.
Gathering information is a natural part of processing orders and providing better services to our customers. We do not sell, rent, or trade that information to anyone. We do want to connect with you and therefore reserve the right to contact you with periodic email offers and industry information from which you can unsubscribe at any time.
We strive to make our email communications useful and interesting to you. However, we understand that sometimes, you just don't want to be bothered. We provide an unsubscribe link in all promotional emails and honor all unsubscribe requests initiated from them.
Correcting Your Information
You can access your information and make changes at any time by logging in to your account using the username and password you selected when you first signed up. If you didn't create an account, please call customer service to make any changes.
Three Step Return Process
We understand that, on occasion, you need to return an item. We accept returns on all software and hardware provided the item being returned is unopened, in its original packaging/condition, includes all supplemental materials and it's within 30 days of your original invoice date.
To return an item, please follow the three simple steps outlined below:
First, review the Return Parameters below
Second, obtain a Return Merchandise Authorization number (RMA) from Royal Discount by email or phone.
Third, review, fill out and sign a Return Form available here – all returns must contain a signed copy of our return form.
Condition: Returns on items that are opened, altered, damaged, used and/or installed are not accepted.
COA: If the Certificate of Authenticity (COA) or product keycode/serial number on the software has been activated, lost, damaged, defaced or detached from its backing, the item is not eligible for return.
Fees: In order to keep our everyday prices as low as possible, all returns are subject to a minimum restocking fee of 3.5% of the value of the returned items, and a return processing fee of $5.00.
Software Licenses: Electronic software licenses that have been activated are not returnable. Those that have not yet been activated can be returned for a 20% restocking fee.
Shipping: Unfortunately, we can not reimburse shipping fees. Additionally, for your protection, when shipping a return we suggest using a reputable carrier, and selecting tracking, delivery confirmation and insurance options. We are not responsible for packages lost en route to us.
Hardware: Returned hardware must be in original, resalable condition, must not be damaged in any way, and must include the original materials, manuals, blank warranty cards, and any other accessories.
Hardware Testing: Hardware found to be defective after the 30 day limit will fall under the manufacturer's warranty policy and should not be returned to Royal Discount. All reportedly defective products found to be in working order after testing will be returned to the customer, and subject to a $20.00 testing fee.
Defective Hardware: Hardware found to be defective will be repaired, replaced, or refunded if notified within 30 calendar days of original invoice date.
Downloads: Downloadable items are not returnable once we have emailed the product key.
Getting a Return Merchandise Authorization (RMA) Number
You can obtain an RMA number by sending an email joel@royaldiscount.com or calling us toll free at 1-877-292-7712. Note you may not be eligible for an RMA number if your return doesn't meet the Return Parameters found in step one.
We will only accept returns that contain a complete, signed copy of our return form, which is available here. (Link opens a PDF).
You may contact us to cancel an order before the Shipping Cut Off Time on the day it is scheduled to ship. If you contact us after this time and your order has already shipped, it will be subject to our Return Policy.
You must notify Royal Discount of defective items within 30 days of your invoice date.
Software is considered defective if the disc is unreadable by a CD-ROM drive or DVD-ROM drive, depending on the specified system requirements. If this happens, Royal Discount will either offer a replacement disc if the product type is "OEM" or "CD & Key", or replace the item with the same product. If you have purchased a "Retail Box," please contact the manufacturer for media replacement.
Hardware is considered defective if it fails to operate within manufacturer specifications. Defective "Retail Box" hardware would be covered under the manufacturer's warranty, if applicable. Defective "OEM" or "Product Only" hardware will be handled by Royal Discount on a case-by-case basis.
If you report a defective item that's found to be in working order by our technicians there will be a minimum $20.00 testing fee for that item. Should you have a defective item and need a replacement, you have 30 days following receipt of the replacement item to ship the original item back to Royal Discount. After these 30 days have passed, you will be charged for the value of the replacement item.
Product inventories are updated automatically on our website. Should the very rare occasion happen where you place an order for an item or items that are backordered, we will send you an email with an estimated shipment date. Sometimes we will need to update the ship date or in extremely rare cases cancel your order because we are not able to get more of the item you ordered. Your card will not be charged until we receive the product you ordered and your order ships to you.
Depending on stock, backordered or discontinued items may be switched to an item of equal or greater functionality.
Minimum system requirements are provided for all software items we sell. By placing an order for software, you agree that the computer system on which you intend to install the software meets or exceeds all minimum system requirements available on our website.
By placing an order at, or accepting a delivery from Royal Discount ("RoyalDiscount.com" or "Royal Distribution, Inc."), you understand and agree with the policies stated in this policy section of the RoyalDiscount.com website and on this page that details our Terms of Sale. Any attempt to alter, supplement, modify or amend these terms and conditions will be considered a material alteration of this agreement and are therefore null and void. Royal Discount may make changes to this site and these terms and conditions at any time without prior notice.
Outside Coupons and Rebates
We do not honor or guarantee any rebates, coupons, or promotions offered by manufacturers or our competitors.
Occasionally, Royal Discount will give out coupon codes for a specified dollar amount or percentage off of an order. These codes are valid for the time frame given when the code was distributed. Royal Discount reserves the right to discontinue use of any and all of these codes in the event an error occurs.
Royal Discount does not offer price matching services of any kind.
Prices may fluctuate on our website without notice at any time. Royal Discount does not offer refunds if the price drops below the original purchase price.
All prices on our website are quoted in US dollars (USD). By placing an order with us, you agree to the total dollar amount of the sale, and authorize Royal Discount to collect via your preferred payment method.
In no event shall we be liable for any indirect, special, incidental or consequential damages including but not limited to loss of use, loss of data, loss of business or profits. Some localities do not allow the exclusion or limitation of incidental or consequential damages, so the above limitation or exclusion may not apply to you.
By placing an order with us, you indicate that you have read and understand our "Product Types" popup, which is available from any product page by clicking on the type of packaging indicated for the product currently being viewed. You also indicate that you understand and accept any limitations of the particular product type(s) you are purchasing.
Please note that Open License products can only be registered to end-users within the United States.
Installation Restrictions: Unless expressly noted on our website, all software products we sell are guaranteed to be valid for ONE installation on any compatible computer system. Any additional installations, even in the event of a system crash or license transfer, are permitted at the sole discretion of the software manufacturer per the terms of your End User License Agreement (EULA) and their activation procedures. 
Royal Discount is not the manufacturer of the software we sell and is therefore not authorized to offer technical support of any kind. If you need technical support, we recommend you obtain it from either the manufacturer or a reputable alternate service. We are not responsible for any fees charged by manufacturers or other technical support services.
We reserve the right to cancel, refuse, or reroute any orders placed for a product which contain a typographical or pricing error. Prices and availability shown on our website are subject to change at any time.
Photographs and images are provided for illustrative purposes only, and do not necessarily indicate the actual appearance of the product. In choosing a product, please rely on the title, product listing, technical specs, price and manufacturer number to verify the product is the version desired.
All copyrights, patents and trademarks are the property of their respective owners. Certain material that appears on this site is the sole property of Royal Discount and may not be used, copied or linked to without prior written consent. All rights are reserved.
Membership in the Royal Discount Member Rewards program is free and voluntary. As part of the enrollment process, you will be included in the Member email newsletter list which lets members know about new products at Royal Discount as well as special Member only sales. If you do not wish to get our Member Newsletter, you may uncheck the enrollment box when registering or unsubscribe at any time from within one of the emails.