Windows Server 2016 Licensing & Features
No matter where you want to take your organization, get there with Windows Server 2016—bringing the innovation behind the world's largest cloud datacenter to yours.
What's New With Windows Server 2016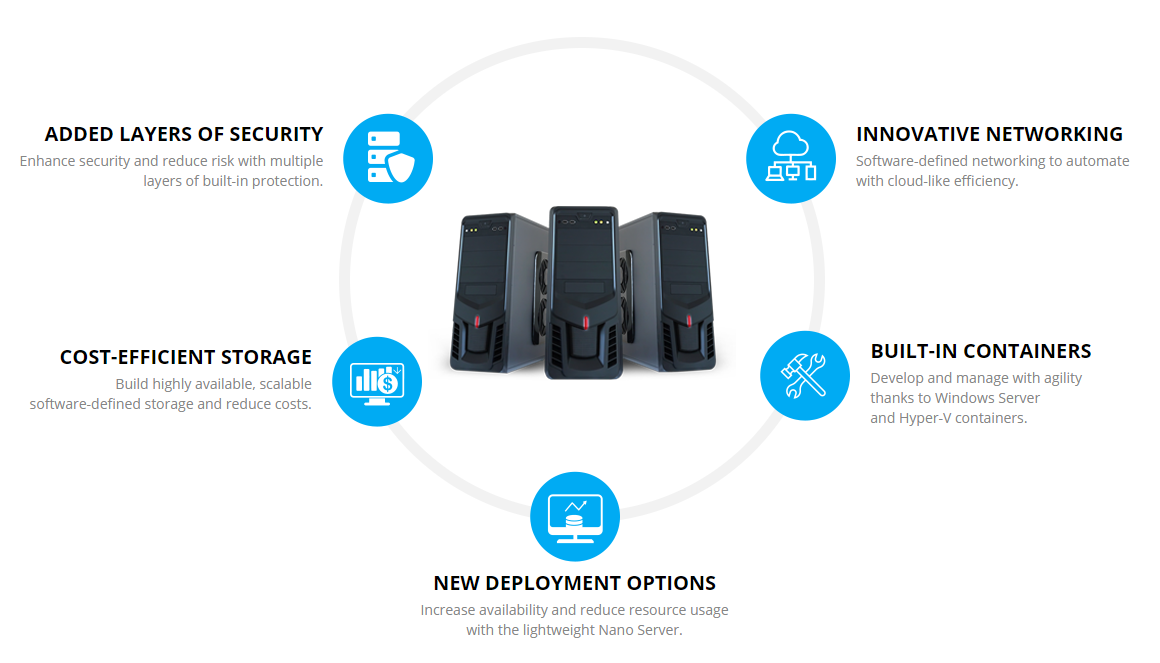 Strengthen your security—starting at the operating system
Help prevent malicious attacks and detect suspicious activity where it matters: your operating system and workloads. Rely on security features built into Windows Server 2016 to control privileged access, protect virtual machines, and harden the platform against emerging threats.

Be more efficient with a software-defined datacenter
Bring flexibility and control to your datacenter while lowering costs with software-defined compute, storage, and networking. Run your datacenter with an automated and resilient operating system, and access many of the same cloud-efficient features found in Microsoft Azure datacenters.

Innovate faster with cloud-ready application workloads
Securely deploy and run your existing applications on Windows Server 2016 to transform them into new cloud-native models. Help developers to innovate and create on-premises and cloud applications using the latest technology—containers, microservices, and Nano Server.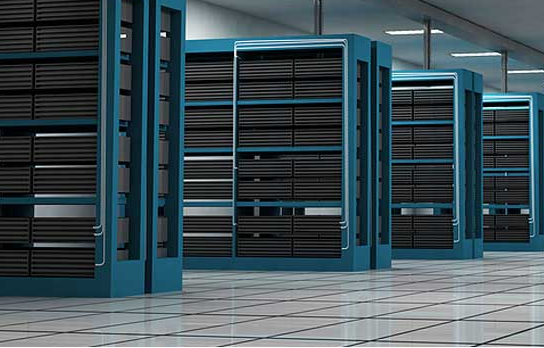 Let us help you find the right version of Windows Server 2016. Royal Discount has over 15 years experience licensing Windows Server Environments. Speak with our Licensing Department and compare features, versions and licensing models. Ask about new security innovations. Benefit from a software-defined datacenter with new Hyper-V container configurations. Royal Discount sells both Standard & Enterprise editions of Windows Server. Tell us about your specific needs and move forward today.
Get started with Windows Server 2016
Licensing Models & Price Comparison
Q: Has the licensing changed?
One major change with 2016 is that all physical cores in the server must be licensed.
In general, the overall pricing has stayed the same, but the licensing model differs.
-For example, if you have 16 or less processor cores on your server, you need to buy 8 of the two cores.
-For example, if you had 20 cores, you would need to buy 10 of the 2-core licenses.
Standard Edition provides rights for up to two OSEs or Hyper-V containers when all physical cores in the server are licensed. For every two additional VMs, all the cores in the server have to be licensed again.
The price of 16-core licenses of Windows Server 2016 Datacenter and Standard edition will be the same price as the 2-processor license of the corresponding editions of the Windows Server 2012 R2 version.
Q: Are CALs Still Required for Windows Server 2016?
Microsoft will continue to require Windows Server CALs for every user or device accessing a server on Standard and Data-Center editions. In certain cases, advanced functionality will continue to require the purchase of a User or Device CAL. Examples of advanced functionality scenarios needing access to Remote Desktop Services functionality or Active Directory Rights Management Services.
Q: What are some differences between 2012 and 2016 versions?
There are tons of new features and benefits when comparing the latest version to that of 2012 and earlier. Specific highlights include open-box functionality for cloud applications, with the introduction of Containers and Hyper-V containers. Another completely new feature is Nano Server, which is a headless deployment OS designed to make your data center more efficient, minimizing deployment for a lightweight experience.
Other next-gen features include Azure-inspired networking, storage enhancements and shielded virtual machines. Standard edition 2016 will retain core functionality and will also include two instances of Hyper-V.