The Journey from On-Prem to the Cloud
For most of human history, information was stored in nothing other than our minds and memories. But then came the development of spoken language, then written language, and then mass-production via the printing press. Then, in the 20th Century, the development of computing language enabled us to store more information in a finite space than ever before. But as we move further into the information era, the ways in which we store data continue to evolve at an almost alarming rate. As the "cloud" continues to advance in practical use and functionality, an increasing number of businesses—small and large alike—are participating in the data storage revolution.
The use of "cloud" storage data, though still dependent on the use of a "ground" server to function, has essentially exhausted the material limitations of the past. Though at first the use of cloud networks was something whose use was limited for only the largest data companies (such as Google, IBM, and Microsoft), now, businesses of any size can participate in the secure use of cloud storage. As businesses and individuals continue to attest, the potential benefits from doing switching to a cloud network are not something that ought to be ignored.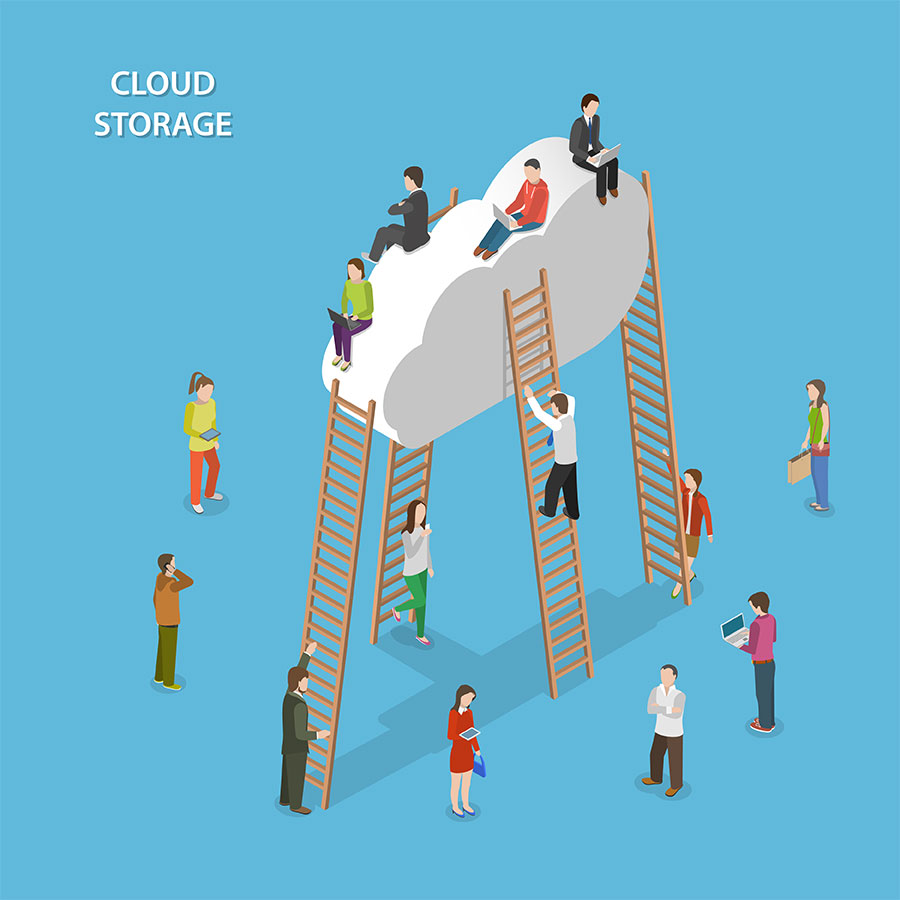 What are the benefits of storing data in the cloud?
The first reason that many businesses are switching to cloud based systems is that it saves them a substantial amount on costs. Cloud-based technology enables companies to minimize (or avoid altogether) the costs of having to run their own servers, rent server space in inconvenient warehouses, and maintain a constant reliance on the use of cables, chords, and other data storage materials.
Furthermore, cloud-based technology is not entirely dependent on any particular server and this offers both companies and individuals an additional sense of security. Before, many companies would be unwittingly forced to accept the risk that if one particular server were to crash, all of their valuable data could be lost. Sure, these companies could indeed back up their data on another server. But even when doing so, they still could not avoid the risk that the kinds of events causing their primary server to crash could also cause their back up servers to crash as well—hence, the cloud was developed.
By using a cloud, data is securely stored in a way that is independent of any particular server, and therefore, the risk of it being lost is substantially decreased. Companies that switch to a cloud-based system, ultimately, are more secure, less expensed, and able to access their information from anywhere they may want to.
What are the different stages of digital transformation?
Transitioning from a traditional data storage systems to a cloud-based system is a very accessible process that, for some, may seem surprisingly simple.
Design– the process begins by examining the company's specific needs, and declaring the applications that are most important. The cloud provider than creates a plan that will roadmap the optimal combination of capacity, security, speed, accessibility, and price. Most cloud platforms can be considered to be 'hybrid' varieties since—because different businesses have different needs—customization is usually the best approach.
Migration– in the digital transformation process, migration is the phrase used to describe when the data moves from the ground system to the cloud. The migration process is usually a collaborative effort between the cloud provider and the company's IT network to assure that nothing gets lost and the transition is as smooth as possible.
Continued Innovation– even once the cloud system has been implemented, it can still be improved over time. Because these networks have such a degree of flexibility, the company running the cloud can continue to learn by experience and adapt appropriately.
If you or your company are looking to switch to a cloud-based system, it is important to find a cloud service provider that is trustworthy and willing to adapt to your needs. Royal Discount is a Microsoft Certified partner specializing in Cloud Migrations, Service & Support. For more information on cloud services, or to speak to a infrastructure as a service expert, contact us direct.