Microsoft created Office in a wide range of versions to fit many different needs. Each version is built to address the main needs for a user-class, whether home, business or academic. But with so many versions you may wonder which version is best for you. With that in mind, here is a guide to assist in your choice between Office versions.
First, all versions of Microsoft Office have the staple applications, Word, Excel, PowerPoint and OneNote. These applications are in wide usage in many industries with Word and Excel formatted documents some of the most the common standards. For basic versions you will have what you need to accomplish regular tasks with these basic applications. PowerPoint is a great tool for making all kinds of presentations even for students. OneNote is a handy application which can be used for a large variety of activities, even capturing recordings and video. Additionally, all Microsoft Office versions offer product support.
All Microsoft Office 365 versions have some additional features and licensing. Regarding the latter point, Office 365 is an annual subscription regardless of whether the version is Home, Personal or University. However, these versions vary in the number of devices on which the subscription can be used. Office 365 Home can be used on up to five PCs, Macs or tablets as well as 5 phones. Office 365 Personal is less expensive but only offers use on one computer device and 1 phone. Meanwhile, Office 365 University can be licensed for two computers and 2 phones.
In addition to being subscription-based, all Office 365 versions offer some extras that may not be available on other Office version. Office 365 includes Outlook, Publisher and Access as well as 1TB of cloud storage via OneDrive for either five users (Home version) or 1 user (Personal and University). Additionally, Office 365 subscribers have sixty free minutes of Skype per month for between five users (Home) and one user (Personal and University). Finally, Office 365 offers continually up-to-date applications, so subscribers have all the latest features at their fingertips.
All other versions of Microsoft Office 2016 are one-time purchased licenses at varying prices depending on your need. None of these one-time purchase version offers Ccoud storage, Skype minutes or continual updates (meaning when the license is expired, or Office 2016 is no longer supported, you may not receive any new updates). Each version is licensed for one computer only.
Office Home and Student 2016 (PC and Mac versions) offers the same staple of applications that will keep you working on any common tasks you have. As mentioned above, these applications are Word, Excel, PowerPoint and OneNote.
Office Home and Business 2016 (PC and Mac versions) have the same licensing and four main applications but add Outlook for your email needs. Business-class users can take advantage of robust email functions in Outlook, whether organization is small or large, to track calendar events and tasks as well as use domain-branded emailing, especially when email is hosted by the company. Outlook greatly enhances the collaborative features of the other Office applications in the version bundle.
For those users with additional needs, Office Professional 2016 offers the same applications as the Home and Business versions (without support for Mac). Additional included applications are Publisher and Access. Professional users in need of database services without server availability can make use of Access to build a business database. Meanwhile, Publisher offers users the ability to create high-quality documents of all kinds from brochures to posters and much more.
Microsoft Office is a robust group of applications offered in a variety of packages to meet anyone's needs. Office 365 subscription packages offer suitable extras for home, school and business use. One-time licensed versions can offer all the necessary applications while adding more applications for business-class users. Regardless of the version you need, you can rest assured that Microsoft Office will meet your needs with powerful, versatile applications. Meanwhile, Access and Publisher both extend the ability of the high-end business-class users with additional resources.
For additional clarification of the offered versions, view of the Microsoft Office comparison guide in the table below: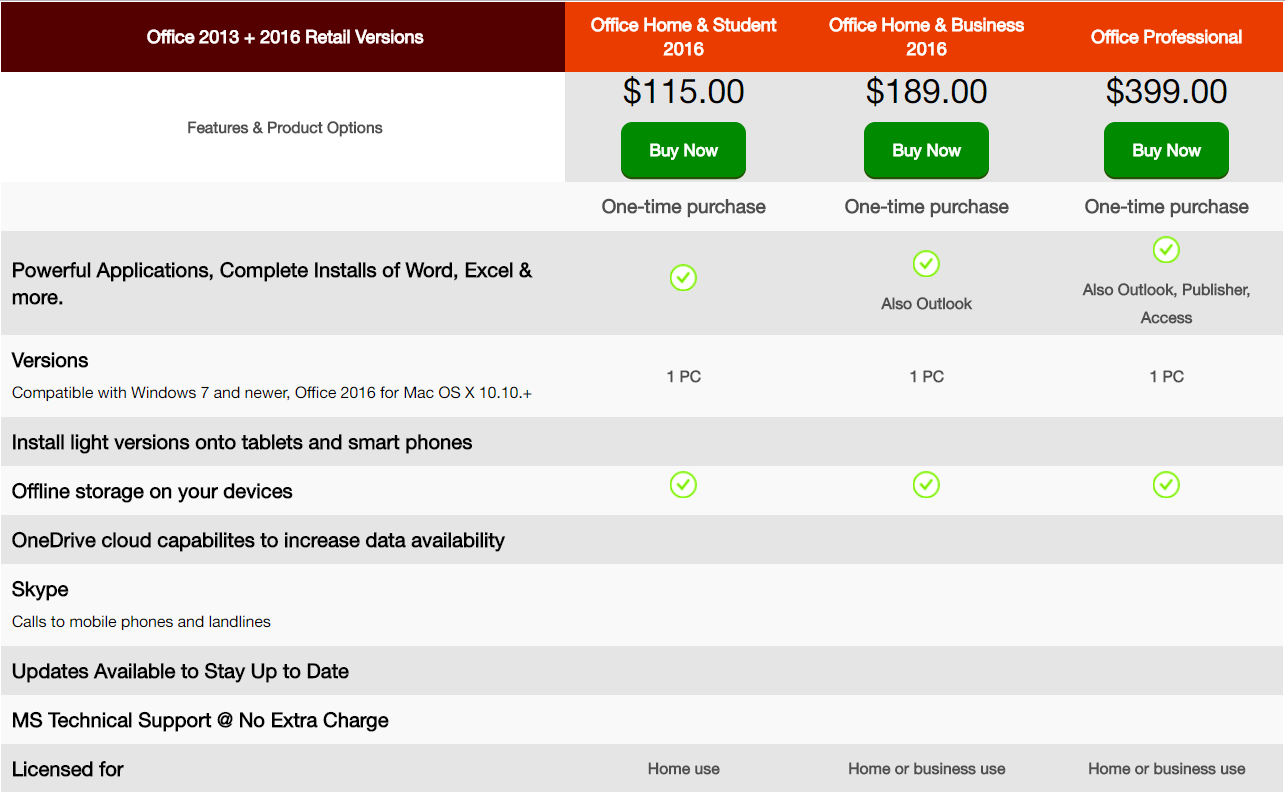 Office offers just what you need so purchase only what you need. The Office version guide pictured above should clarify what you need based on cost, type of licensing and applications or extra features offered. To learn more about Microsoft Office and what applications best benefit you, contact our experts at RoyalDiscount.com – your online source for cheap OEM, Retail & Cloud products.